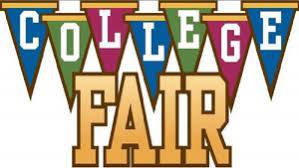 It's Time to Sign Up for the College Fair
College fairs have always been a great way to "visit" a number of colleges in a short amount of time.  With on-site college visits temporarily on hold, attending a college fair is a good starting point to explore the schools that you're interested in.
As with all things, college fairs have gone virtual. This is a great opportunity to learn about schools and meet admissions reps from the comfort of your home.  NACAC (National Association for College Admissions Counseling) and the Common App have teamed up to offer a series of virtual fairs.
Sunday, January 31 (1 pm – 7 pm)
Sunday, February 28 (1 pm – 7 pm)
Sunday, March 7 (1 pm – 7 pm) – STEM Fair
Tuesday, March 16 – Performing & Visual Arts Fair
Sunday, March 21 (1 pm – 7 pm)
Saturday, April 10 (3 pm – 7 pm) – Western US Colleges
Tuesday, April 20 (3 pm – 7pm) – Southeastern US Colleges
Sunday, May 2 (1 pm – 7 pm EST)
Tips to Get the Most Out of the Fair:
Make sure you register in advance to attend the sessions offered by the colleges you are interested in (you don't want to get locked out if they cap registration).
Write down a few questions that you want to ask the speaker during the Q&A portion of the session. Some suggestions:

Are there any specific requirements for certain programs at the university?
What differentiates your program in [blank] from programs offered at other universities?
What kinds of students are happiest at your school?
What are some school traditions/major events?

Record your thoughts about each school.
Remember to write down the contact information of the admissions counselors for schools you are considering in case you have a follow up question or to send a thank you note if appropriate.
For more information or to register click here.