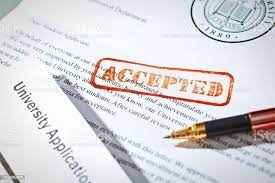 December and January. The months where Early Action and Early Decision applicants receive their decision letters.
The Outcomes:
Accepted.  Congratulations you got in!
Deferred: Admissions is interested in you, but they aren't ready to commit. While you may be disappointed that you weren't accepted, you still have time to impress admissions.
Denied: This is the tough one.  It can be hard to hear that the school said "No".  It's ok to be upset, but remember, this is not a reflection on your ability.  If you want proof, read Frank Bruni's Where You Go Is Not Who You'll Be.
What To Do:
If you were accepted to your ED choice, it's time to put down a deposit and contact your other schools to withdraw your applications. This can open up a space for another applicant.
If you were accepted to one of your EA schools, you can wait until you've received all of your acceptances to decide which school is the best fit for you.
If you were deferred, send your midyear grades and write a LOCI (Letter of Continued Interest).  You can also send an additional recommendation letter if the college will accept it. Continue to apply to your Regular Decision schools.
If you were denied, take a day or two to regroup and then move on. It's their loss, not yours. Continue to apply to your Regular Decision schools.
The Real Decision Maker – YOU!
College admissions is a tricky business.  You worked hard throughout high school and did your best to showcase your accomplishments through your applications. Keep in mind that each school is trying to craft a class that meets their priorities. There are often simply too many qualified applicants for a limited number of spots. (It's why I'm now calling the top tier schools "Highly Rejective" instead of "Highly Selective".)
That being said, the schools don't have the final say in what happens next. You may not be able to control everything, but it's within in your power to make the most of what life gives you. Let the process unfold, stay engaged, and be the person you are called to be!