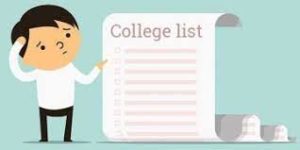 High school juniors, it's time to start building your college list. 
Creating a list of colleges to apply to may seem daunting, but if you take the time to think about what's important to you and do your research, you'll be able to find the schools that are the right fit for you.
Ready to get started?
Follow these steps to narrow down your choices to the 8 – 12 colleges that you'll apply to in the fall of senior year.
Think about the college characteristics that are important to you. What are must haves, would like to have, and can live without.
Prioritize.  Create a "Top 10 List" of characteristics for your ideal college.
Explore. Use college websites, guide books, and virtual tours to find the schools that meet most of your Top 10 Characteristics (you may not find a school that meets them all).   [Check out Big Future, Historically Black Colleges and Universities, Niche, Peterson's Guide, and Princeton Review]
Want to know more? Attend a virtual information session or contact admissions.
Record your findings.
Look for trends. What do you like about the schools?  What don't you like?  This will help you decide what's really important to you and what you can live without.
Create a list of schools that you're interested in.
Schedule a visit. If you can't visit the school in-person, see if they will be visiting you.  Ask your guidance counselor if the schools are visiting your high school (many are doing virtual visits).  Look for virtual college fairs.  Check out the colleges' websites to see if they'll be in your neighborhood or if you can speak with an alum.
Review your "Top 10 Characteristics".  How well does each school meet your criteria?  Which schools rise to the top? Consider your chance of admission. While it's good to reach for the top, it's important to have schools with a medium and high chance of admission (keep in mind there's no such thing as a "safety" school anymore). Your final list should be based on good academic, social, and financial fit. Talk to your parents and guidance counselor.  They can help you make any final adjustments.
Create a list of schools you want to apply to.
Congratulations, you now have your list of schools!
Need help?  Contact me.